Workshop

Looking for something new to learn! Come and join us!
Hanapua Flowers offers a variety of floral workshops that will suit your interests.
お花から始まるコミュニケーションの輪。
さあ!私たちと一緒に店内でワークショップをしませんか?
Limited Time Workshop
Hanapua Glam Special
10/8, 10/15 and 10/22
5pm to 7pm

Christmas Wreath Workshop
12/1 to 12/24
Friday, Saturday and Sunday
1pm and 3pm

Shimenawa Workshop
12/1 to 12/30
Tuesday, Wednesday and Thursday
1pm and 3pm

Honolulu Marathon rooting Workshop
12/10, 12/11 and 12/12
8am, 8:30am, 10am, 10:30am,12pm,12:30pm, 2pm, 3pm and 4pm


*Please check below for more details*
Christmas Wreath
Create that special holiday touch with your very own Christmas wreath

Price: $ 45

Material: Wreath base (12 inches), wire, Christmas green, ribbon

Time required: Approximately 1 hour
Shimenawa Workshop
(Hawaiian Style)
Shimenawa is a rope like decoration created by hand for welcoming Toshigami in the upcoming New Year. Toshigami is a god who brings happiness and health.
Create your own Shimenawa. It is believed to serve as protection. Place the Shimenawa on the front door to welcome Toshigami for the New Year.


Price:$35

Material:Raffia,Ti leaf lei

Time required: Approximately 1 hour
Honolulu Marathon Cheer Squad Workshop
Congratulate your Honolulu Marathon Finisher with a beautifully crafted lei or lei po`o (flower crown). They deserve all the support and love that they can get!

12/10(Friday) and 12/11(Saturday)
*Lei making $20
10am,12pm,2pm and 4pm
*Lei Po'o making $45
10:30am,12:30pm and 3pm

12/12(Sunday)
*Lei making $20
8am,10am and 2pm
*Lei Po'o making $45
8:30am and 10:30am
✴︎ Informations ✴︎
Flower Arrangement Workshop
In 2021, you will be able to learn the 11 basic type of flower arrangements throughout the year.

Dome in January
Triangle in February
Horizon in March
Vertical in April
L Shape in May
Hogarts in June
Cone in July
Oval in August
Crescent in September
Crescent in October Radiation
November will be Inverted T.

You can participate in the workshops in order from January, or you can participate in a month that you have never made.

In December, we will hold a Christmas Wreath & Shimenawa Workshop.



Pauhana Friday Flower Arrangement workshop
(B.Y.O.B)
Every Friday 6pm-8pm

Lei Po'o Beginner, Wristlet, Corsage, Boutonnières,Koko(Head Dress) Workshop


Lei Po'o (Wire)
In this beginner's class, we will create a beautiful Lei Po'o by using flowers held together by floral wire and floral tape. The final piece will be adorned with a ribbon. Enjoy making this one of a kind haku!.
14インチのワイヤーをベースに、フローラルテープで花材を巻きつけます。仕上げにリボンを付けて、後ろから見てもかわいい花冠を気軽に作れます。


$50 / 120min. (Including materials)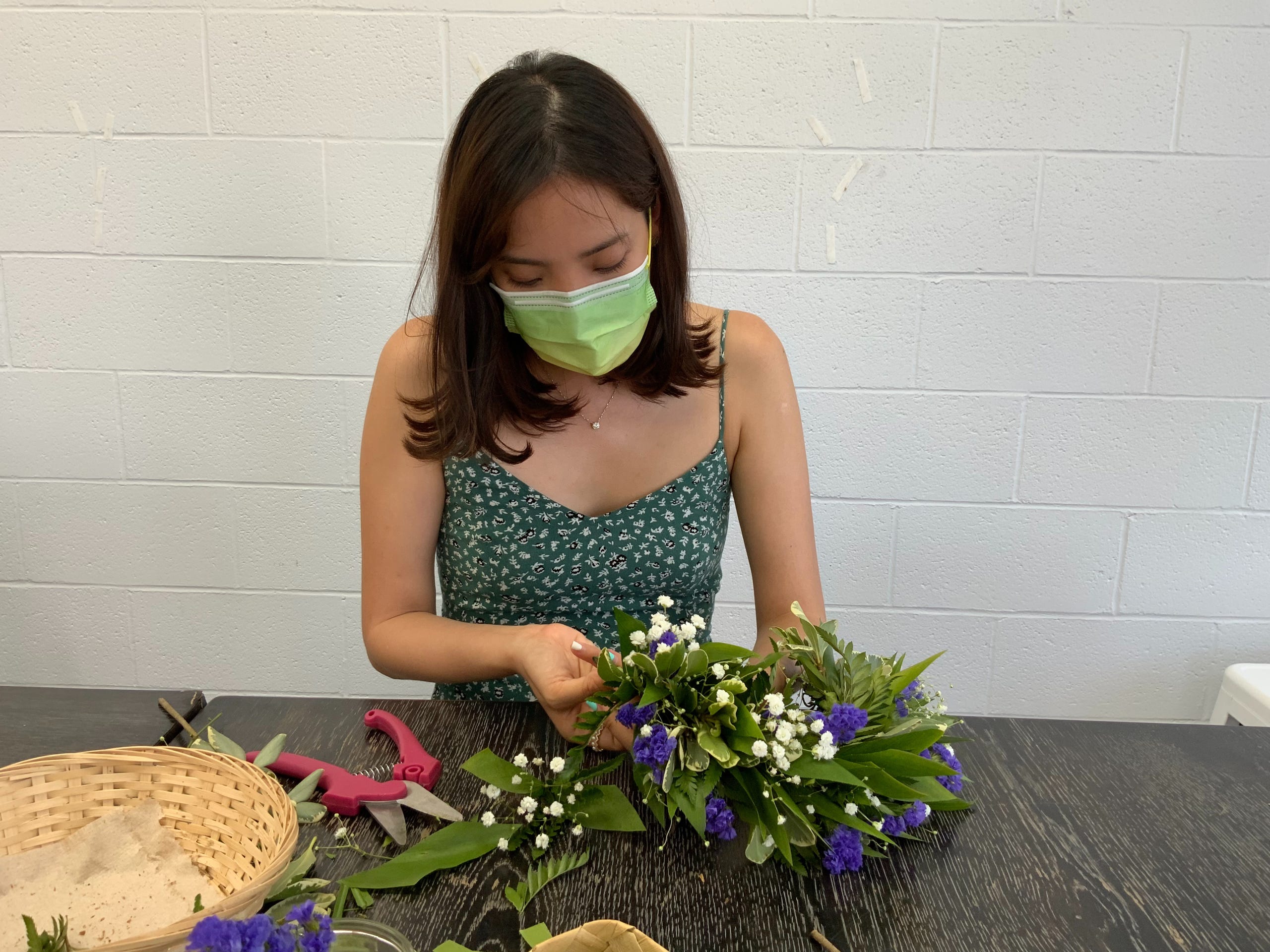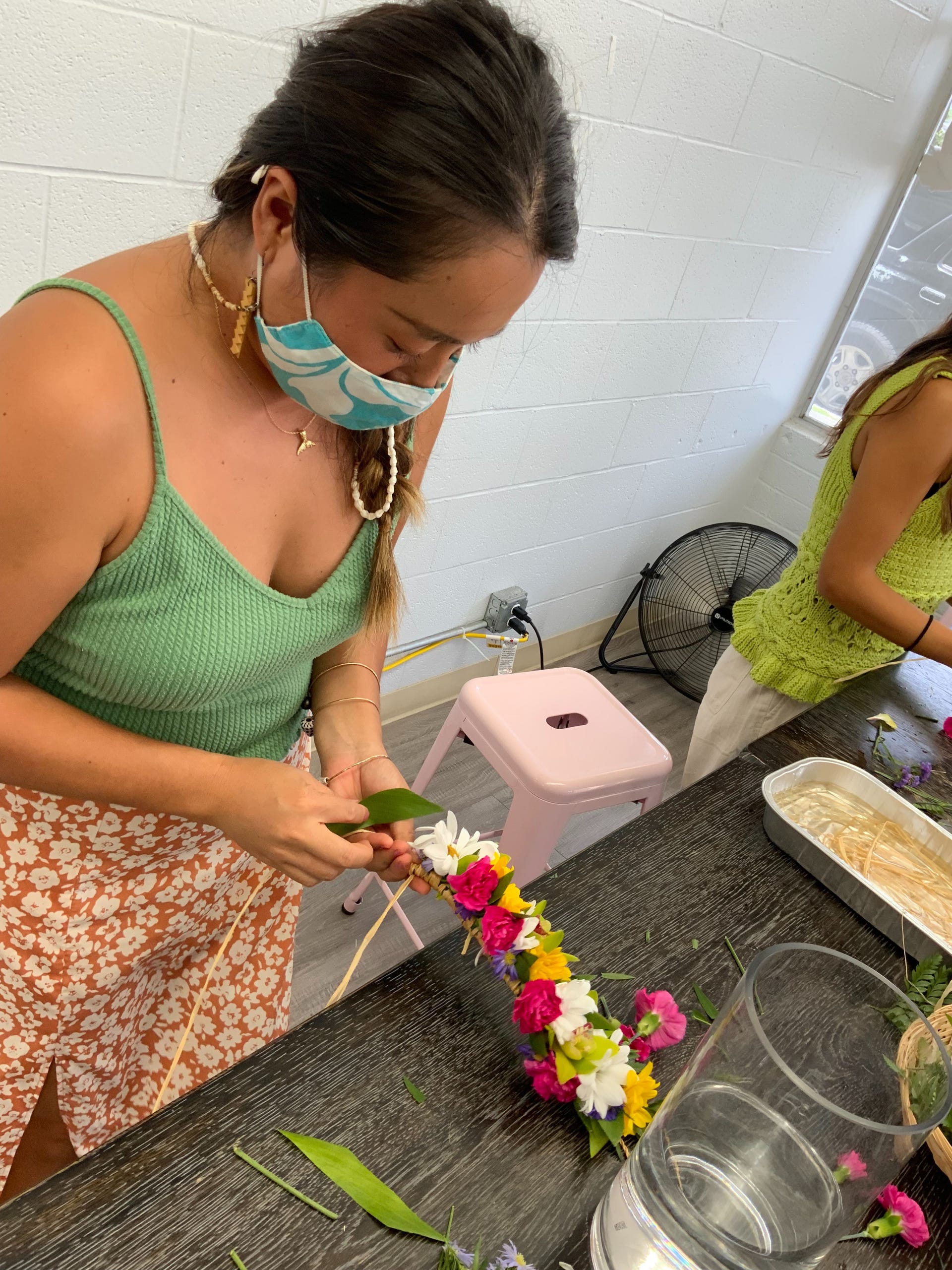 Lei Po'o (Wili)
For our advanced class, we will create an elaborate Hawaiian-style Haku held together using raffia. Here, we will learn how to wrap four or more types of floral materials to make a 20-inch gorgeous floral crown.
見栄えが良くハワイらしい魅力のハクを本格的にアレンジ。ラフィアを使用し4種類以上の花材を巻きつけて、20インチの豪華なお花の冠を作ります。
$60 / 150min. (Including materials・Advance class)
Centerpiece
Introduce basics and tips for creating a centerpiece by combining seasonal flowers. Use what you made and decorate your own home.

季節のお花を組み合わせてアレンジメントの基礎やコツを伝授。花器ごとお持ち帰りできるので、そのまますぐ飾れます。

$30〜 / 90min. (Including materials)
【Keiki Fun】
Parents and children (between the ages of 4 and 12) can make one flower arrangement.
(Toddlers are recommended to be accompanied by a guardian)
親子(4〜12才)までお子様で1個のフラワーアレンジメントを作ることができます。
PauHana Workshop
(Wednesday, Thursday and Friday)
At the end of a long work week, it's time to have fun and relax. Join us for a Pau Hana evening with friends to celebrate a job well done! BYOB!

週末の仕事終わりは、お花で癒されながらお疲れ様の乾杯を。アルコールOKのちょっとお洒落なクラスです。

$40〜 / 120min. (Including materials)
BYOB可、プラスティックカップ付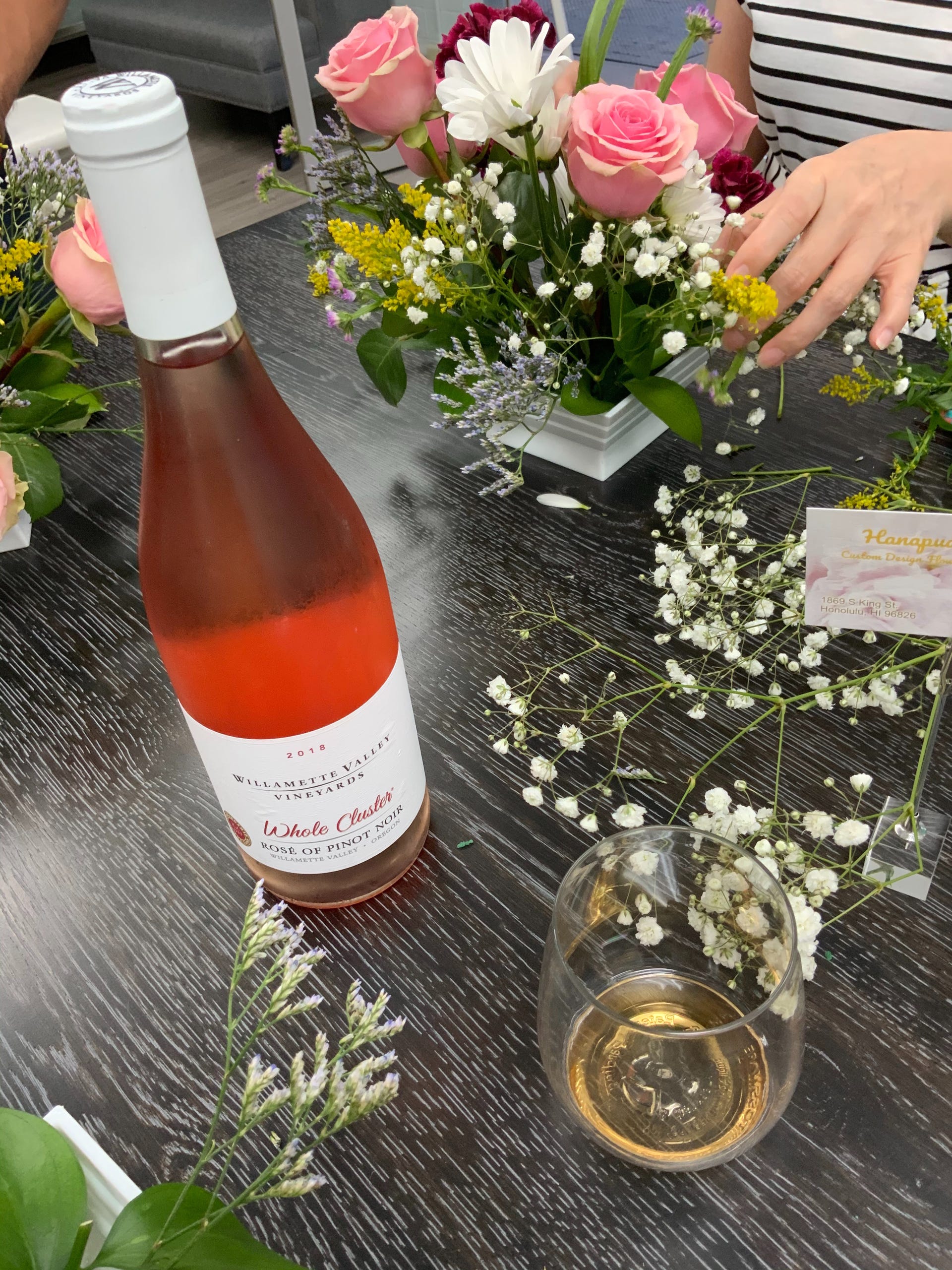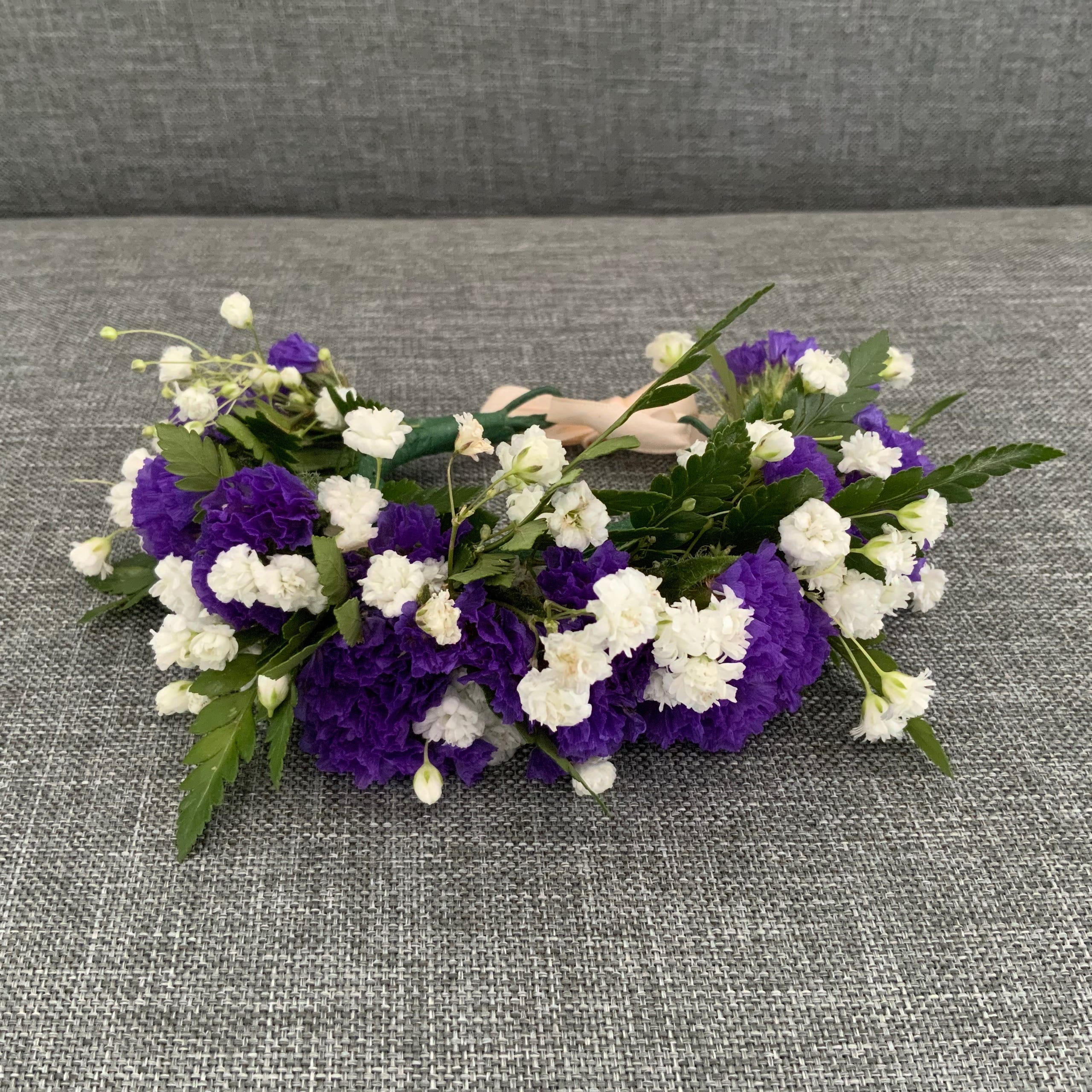 Wristlet
A simple flower bracelet to be worn at a wedding or when dancing hula.

4インチのワイヤーをベースに、フローラルテープで花材を巻きつけます。手元を明るく飾るブレスレットをウェディングやフラに。

$30〜 / 60 min. (Including materials)
Koko
Koko is a small floral hair accessory. Made by wrapping floral material around a mini hair comb. Easy to make and fashionable to wear.
ココは小さな髪飾り。使いやすいワンポイントのヘアアクセサリーで、コサージュとしても使えます。

$30〜 / 60min. (Including materials)
We recommend this
✔︎ Experience the fun of designing with flowers.
✔︎ Flower designing can be therapeutic.
✔︎You may find a new hobby.

✔︎お花に触れる楽しさを体験したい
✔︎日頃の疲れを癒すフラワーセラピーに
✔︎お花を新しい趣味にできたら・・・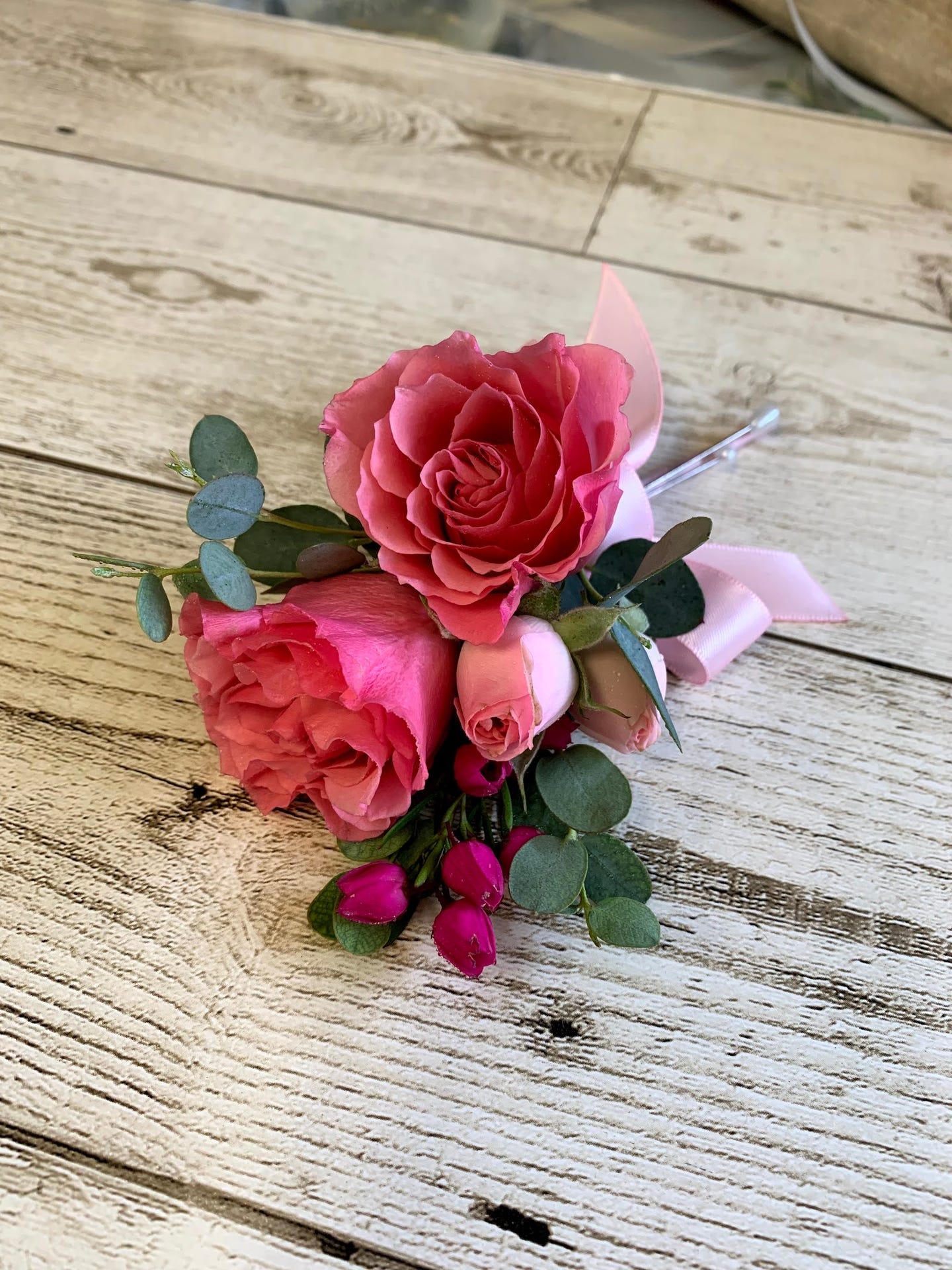 Corsage & Boutonniere

Enjoy making a corsage and boutonniere for your upcoming special occasion! Create handmade pieces to match your fashionable look.
セレモニーで使うコサージュとブートニアを2つセットで。手作りすればふたりの思いが一層深まりお洒落に演出できます。

$30〜 / 60min. (Including materials)
Bouquet
Create a beautiful original bouquet. Select flower materials and color theme. Arrange together to suit your style.
こだわりの花材・テーマカラー・形を選んで、思い描く理想どおりのオリジナル花束を制作できます。

$100〜 / 120 min. (Including materials・Advance class)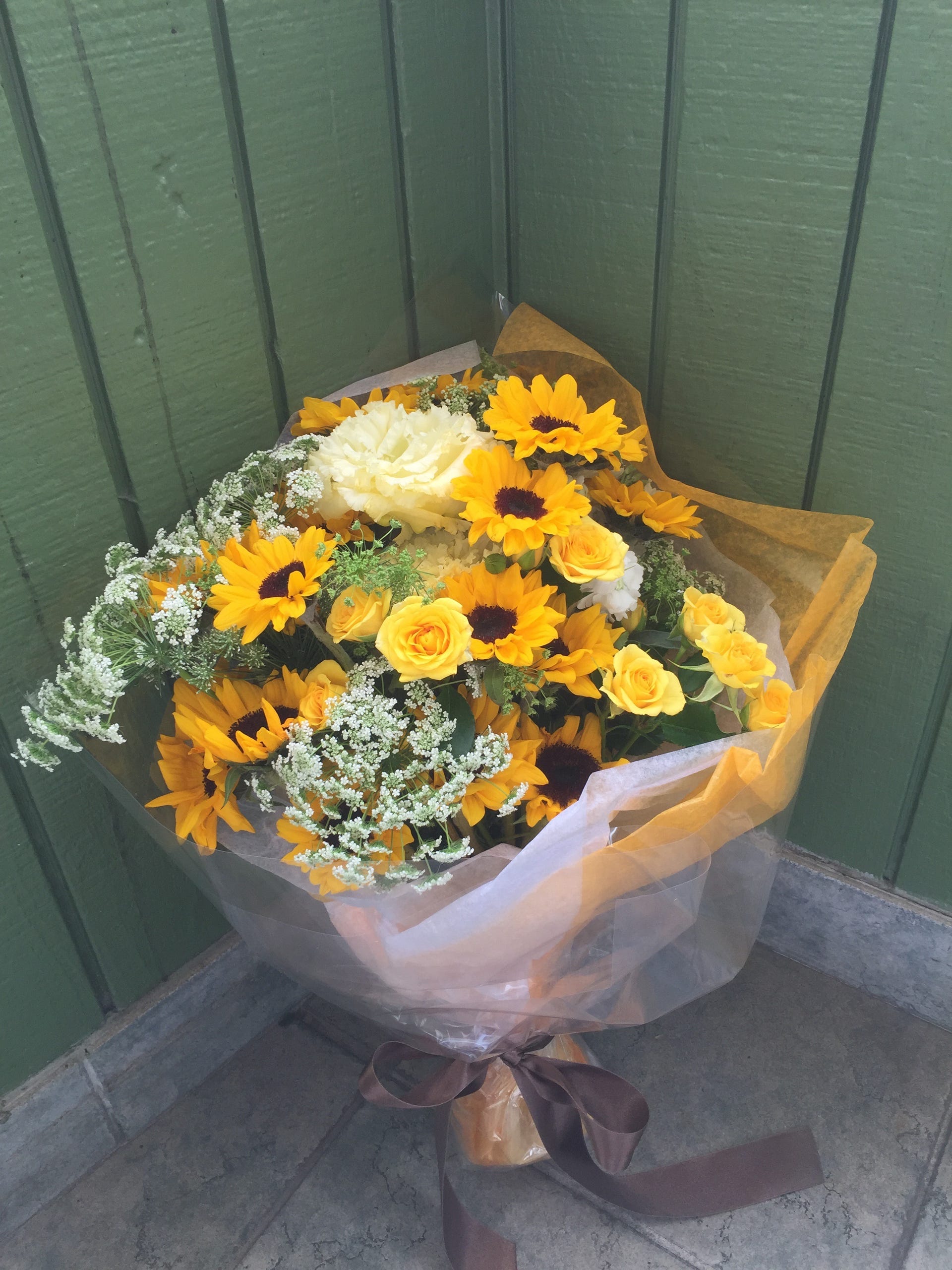 Price does not include tax.
Book Now! We are currently taking reservations for our upcoming classes.


画像はイメージのため、花材は季節や仕入れによって変わります。
価格は花材によって変わり、タックスは含まれておりません。
お持ち帰り用の袋はご自身でご用意ください。
Book Nowより現在募集中のスケジュールの確認・予約受付中です。