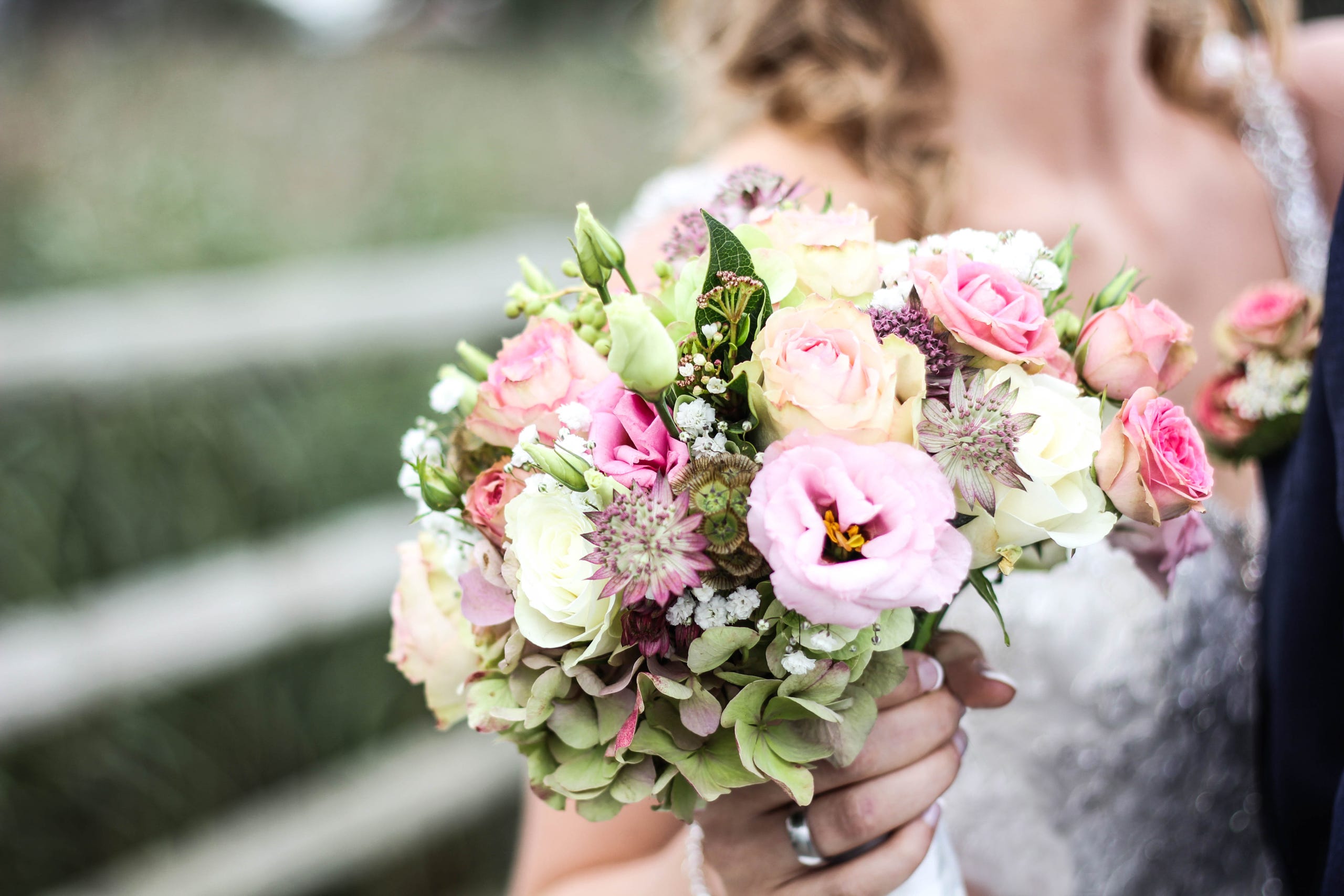 Hanapua Flowers
During our busy lives, we often forget to "stop and smell the flowers." Take time out of your busy schedule to relax, pamper yourself, and fill your home with beautiful flowers. Flowers rejuvenate the senses, liven up your emotions, and ease yourself back into everyday life.

Make your wedding dreams come true.
Imagine your wedding ceremony filled with elegant floral arrangements.
Create your own original style for your special day.

Enjoy flowers at all the happiest and memorable moments in life.
Share a simple gift of thanks or "just because" to someone by presenting them with an arrangement to brighten up their day.
Let us create a masterpiece that will say what's in your heart.

Welcome to Hanapua Flowers! Originated in Honolulu, Hawai`i.


たとえば、なにげない日常の中でホッとひと息ついた視線の先に
色鮮やかなトロピカルフラワーがあったり、
ロマンティックな雰囲気に包まれたウェディングシーンが
美しいアレンジメントで溢れていたら・・・

そう、しあわせの瞬間、となりにはいつもお花があるように
とっておきのサプライズや癒しの空間を演出したい。

そんな思いから2020年ハナプアフラワーズは、
オアフ島のホノルルに誕生しました。
Our Story
Our namesake, Hanapua, is a blend of Japanese and Hawaiian.
We are a fusion of cultures, using a variety of flowers in each arrangement. It is a Japanese and Hawaiian flower shop full of creativity and charm. Hanapua is a word for creative in Hawaiian.
Our namesake describes us perfectly in our craft to design and
create beautiful flower arrangements.


ハナは日本語、プアはハワイ語、フラワーは英語で花のこと。

それぞれの文化や花材が融合し、
魅力がギュっと詰まったハワイのフラワーショップです。

また、ハナプアにはハワイ語でクリエイティブという意味もあり、
お花づくりが得意な私たちにぴったりなネーミングなのです。
Our Mission
What is important?
It is our mission to make a special "connection between people."
We welcome all to our island home of O`ahu, Hawai`i, especially our Japan neighbors. Our people here are warm and sincere, and have your best interest at heart. Let us create floral arrangements that will greet people with a smile and make hearts melt forever.
Always made with Aloha.


大切にしていること。
それは『人と人との繋がり』

この小さな島の温かい人々との触れ合いや
日本からの大切なお客様をお迎えしながら
お花を受け取る人々を笑顔にするお手伝いをしていきます。

たくさんのアロハと共に。
Our Service
A rich variety of floral arrangements to custom fit your needs.
Let us create an original masterpiece, the only one made in the world,
just for you.
◆ローカルが気軽に足を運べるショップでの販売
◆ウェディングに欠かせない記憶に残るアレンジ
◆店内で楽しめるワークショップの開催
◆便利なオンラインショップ

さまざまなニーズに合わせて
心地よいサービスを提供いたします。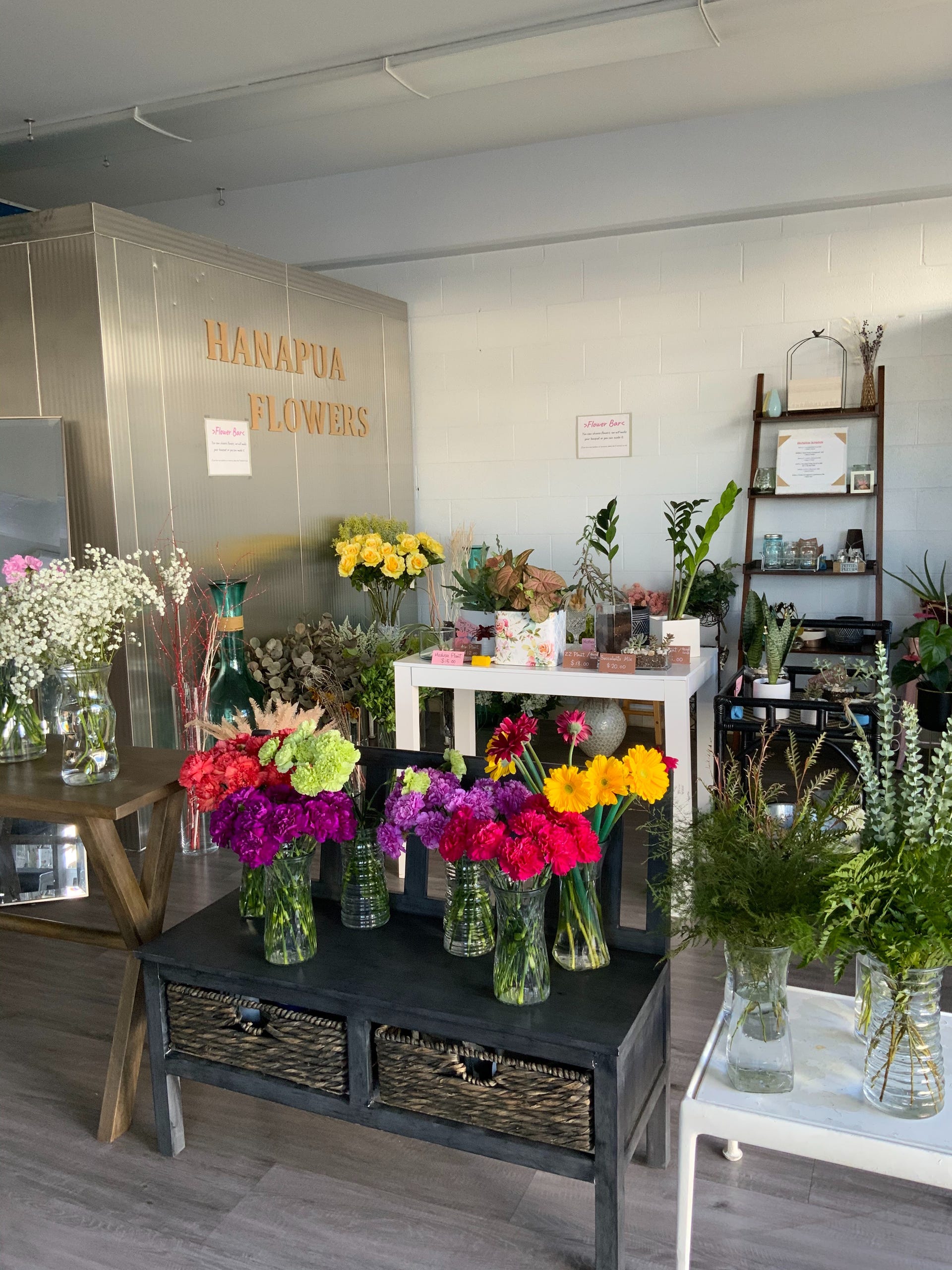 Information
In 2021, you will be able to learn the basic type 11 of flower arrangements throughout the year.
Dome in January, Triangle in February, Horizon in March, Vertical in April, L Shape in May, Hogarts in June, Corn in July, Oval in August, Crescent in September, Crescent in October Radiation, November will be Inverted T.

You can participate in the workshops in order from January, or you can participate in a month that you have never made.

In December, we will hold a Christmas Arrangement & Shimenawa Workshop.

Flower Arrangement Workshop
Tuesday though Sunday
12pm and 2pm

Pauhana Friday Workshop
Every Friday
6pm-8pm

Saturday Morning Lei Po'o Workshop
Every Saturday
9am-11am
Google Maps content can't be displayed with your current cookie settings. Select "Show Content", to view content and agree to the Google Maps cookie settings. Get more info in the Google Maps Privacy Policy. Opt-out here at any time: cookie settings.
Show Content
Opening hours
Tue.-Sun 11:00am〜5:00pm
Mon. Closed
Address
Hanapua Flowers

1869 S King St.
Honolulu Hawaii 96862
☎︎808−892–1711

Street or Coin parking


Access
The Bus From Waikiki
take #2 Bus on Kuhio Ave. Get off at Kalakaua Ave. + S. King St. Walk towards Hele gas station to take the #1 or #6 bus. Get off at S. King St. + Hauoli St. Walk about 3 min east to Hanapua Flowers.

Uber $12〜 /10min.